Between jobs with Mulligan, I often worked with the Gene DiNovi Trio, the Al Cohn and Zoot Sims Quintet and the Clark Terry and Bob Brookmeyer Quintet.

And I played one concert at Lewisohn Stadium with Duke Ellington's orchestra, one of the biggest thrills of my life. (July 24, 1958)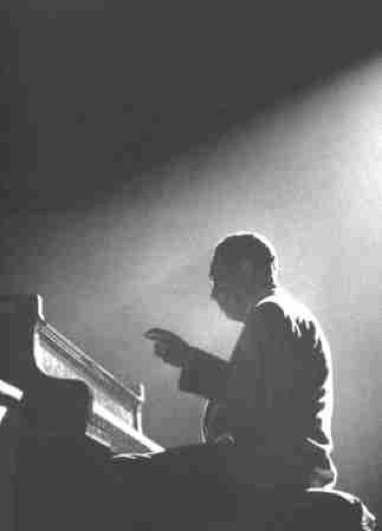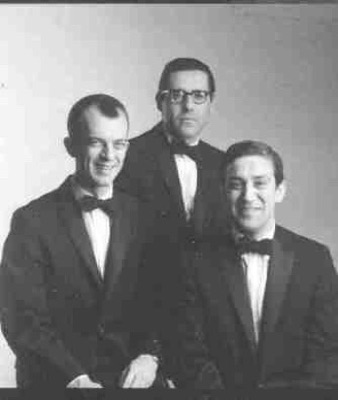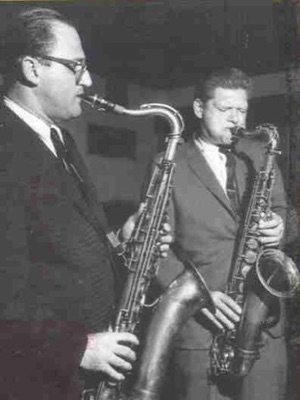 Bill Crow, Gene DiNovi, Johnny Cresci 1960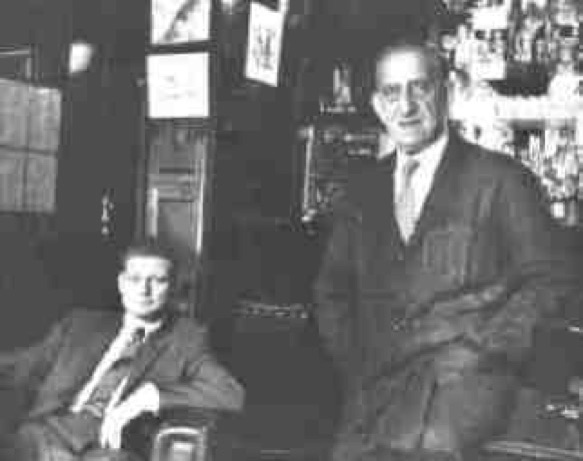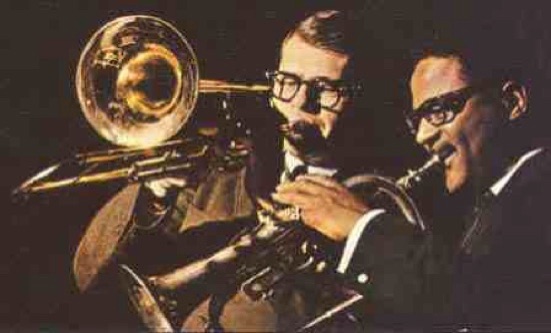 Zoot at Harry's English Bar, Brussels                  Harry
Bob Brookmeyer and Clark Terry
 A partial list of other employers of mine through the years: Dizzy Gillespie, Kai Winding and J.J. Johnson, Jimmy McPartland, Bobby Scott, Max Kaminsky, Sol Yaged, Eddie Condon, Peanuts Hucko, Ralph Flanagan, Gary McFarland, Bud Freeman, Mose Allison, Ruby Braff, Pee Wee Russell, Billy Bauer, George Wein, Jim Hall, Lee Konitz, Art Farmer, Quincy Jones, Thad Jones, Duke Jordan, Tommy Flanagan, Roger Kellaway, Jimmy Rowles, Bob Rosengarden, Ed Polcer, Kenny Davern, Sam Donahue, Walter Norris, Walt Levinsky, Phil Bodner, Joe Puma, Chuck Wayne, George Barnes, Scott Hamilton, Chris Griffin, Marty Napoleon, Red Rodney, Joe Beck, John Cutrone, Tommy Goodman, Ray Alexander, Houston Person, Herk Ferranda, Fred Smith, Drake Smith, Eddie Bert, Wil Greenstreet, Jimmy Hill, Peter Prisco, Chris Garone, Vinnie Ruggieri, Jay McShann, Al Grey, Winston Byrd, Turk Mauro, Tom Malone, Johnny Morris, Jimmy Dean, Harry Glogower, Nick DiVito, Doug Proper, Howard Williams, Sonny Carroll, Vince Giordano, Bobby Day, Joel Martin, Joe Hanlon's Bearcats, The Harlem Blues and Jazz Band, Tom Kohl, Hiroshi Yamazaki, Tomoko Ohno, Lou Caputo, Chris "Calloway" Brooks, and Joe Morello.
I also have played for singers Jackie Cain and Roy Kral, Mel Torme, Nina Simone, Morgana King, Chris Connor, Lainie Kazan, Lana Cantrell, Linda Hopkins, Al Jarreau, Tony Sotos, Jimmy Morrielli, Barbara Lea, Danny Tarrantino, Giacomo Gates, Marilyn Zavidow, Judy Marie Canterino,  Aliza Cotton, Michelle LeBlanc, Tony Aiardo, Glenda Davenport and Carol Sloane.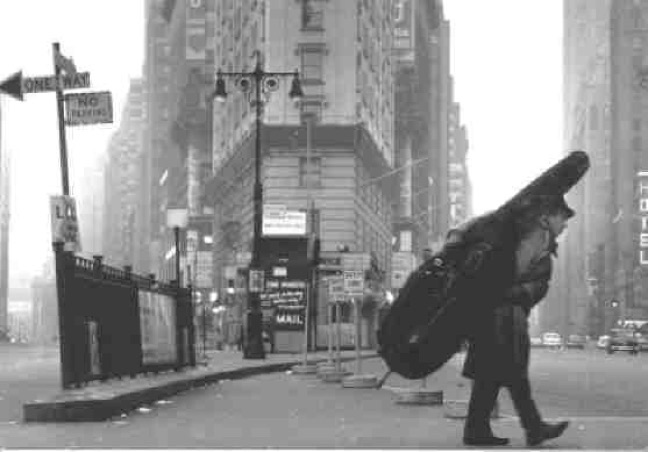 Bill Crow crossing Times Square NYC, 1958

photo by Dennis Stock
Dennis Stock needed a closing shot for a jazz photo book he was preparing, and asked me to come up to Times Square at dawn one Sunday, when the traffic would be light.  This picture became famous, being used in two of Dennis's books, and for posters, postcards, etc. 

   I chose it for the cover of my book, "From Birdland to Broadway," and for the cover of one of my Venus Records CDs.
OVERSEAS TRIPS:

     I traveled with Glen Moore on the S.S. Uruguay to South America in 1952, and made three concert tours in Europe and one in Japan with Gerry Mulligan between 1957 and 1964. 

     During the summer of 1962 I played the Seattle World's Fair and toured Russia with Benny Goodman's band. See my account of the trip in my WRITING section.
The band Benny Goodman took to Russia in the summer of 1962:

John Bunch, Teddy Wilson, John Frosk, Joe Newman, Joe Wilder, Jimmy Maxwell, Bill Crow, Willie Dennis, Jimmy Knepper, Wayne Andre, Victor Feldman, Turk Van Lake, Mel Lewis (hidden), Zoot Sims, Jerry Dodgion, Phil Woods, Tom Newsom, Gene Allen. Our vocalist was Joya Sherrill.  Benny got mad at her, so he left her songs off the record album.  But she was a big hit with the Russians.