I've written two books that I hope you'll like: 

JAZZ ANECDOTES

(published by Oxford University Press in 1990 and in paperback in 1991) 

and                                                      

FROM BIRDLAND TO BROADWAY

(published by Oxford University Press in 1992 and in paperback in 1993)
A revised paperback edition of JAZZ ANECDOTES was published in 2005,

with over 100 added stories. 

It is titled JAZZ ANECDOTES, SECOND TIME AROUND.
Some reviews I found online:

Bill Crow on the Jazz Life: Drink Deep and Enjoy


Sunday, June 12, 2005
JAZZ ANECDOTES
By Bill Crow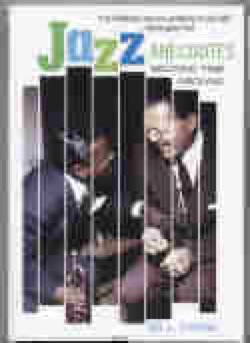 Oxford University Press. 1991 reissue. 6.95.

If you believe that summer reading is supposed to be fun, as most readers apparently do, then run don't walk to "Jazz Anecdotes" (Oxford University, 1991 reissue, 6.95 paperback) by the noted bass player Bill Crow, the most vivid portrait of the jazz life -- not to mention the funniest -- you'll ever find.
Ah yes, the jazz life. Here's Edd
ie "Lockjaw" Davis explaining how, as a kid, he decided to become a jazz musician: "By watching musicians I saw that they drank, they smoked, they got all the broads and they didn't get up in the morning. That attracted me." As indeed it has attracted countless thousands in the more than a century since notes from Buddy Bolden's trumpet first wafted over New Orleans. It's la vie boheme and then some, a lot more boheme than anything Giacomo Puccini ever dreamed up. To be sure, in recent years the jazz life has quieted down as the music has moved from the boozy, smoky nightclub to the impeccable concert hall, but "Jazz Anecdotes" provides a vivid picture of what it once was.
As the stories Crow tells remind us, the gift for improvisation that jazz demands o
f its musicians carries over into the way they talk. Here, to whet your appetite, are a few examples: Woody Herman, asked if his band could play "Jewish music," replied: "We have some arrangements by Al Cohn." Cohn, asked by a panhandler for a dollar to buy a drink: "Wait a minute. How do I know you won't spend this on food?" Cohn again, invited to try a European brand, Elephant Beer: "No, I drink to forget." Eddie Condon, explaining the difference between modern and traditional jazz: "They flat their fifths. We consume ours."
As this makes plain, there's
a lot in "Jazz Anecdotes" about drinking. Like it or not, it comes with the territory. So does plenty else: "bandstand stories, road stories, jam-session stories, bandleader stories, tales about innocence and venality, serendipity and catastrophe." It's an absolutely wonderful book, indeed the only drawback is that reading it will make your summer go much too fast.   -- Jonathan Yardley, book critic

[Amazon.com]

In the course of his long career as a bassist, Bill Crow has rubbed elbows with such luminaries as Gerry Mulligan, Marian McPartland, Stan Getz, and Duke Ellington (who coached him through a one-nighter by pointing to the appropriate notes on his keyboard a half-beat before they were played by the orchestra). Still, Crow's vantage point is largely that of a supporting player, bouncing from gig to gig and trimming his style to fit the circumstances. Luckily for us, he's written it all down in From Birdland to Broadway, which is both a spirited account of the freelancer's hand-to-mouth existence and a portrait gallery of Crow's exalted employers. The Seattle native arrived in Manhattan in 1950 with a valve trombone, which he later exchanged for a string bass. He began his jazz education at Birdland--then a kind of world headquarters for bop and progressive swing masters--and went on to play in trios, quartets, big bands, and Broadway pit orchestras (including an eight-year run with 42nd Street). Crow's account of this musical odyssey is a delight: modest, specific, and packed with low-key comedy. --This text refers to the Paperback edition.

[From Publishers Weekly]

Bassist Crow follows up Jazz Anecdotes , his breezy collection of tales about colleagues he encountered in his 40-year career as a performer, with this spirited and affectionate memoir. A native of Seattle, Crow was a valve trombonist when he came to New York City in 1950 as a jazz-mad 22-year-old; he switched to bass for a gig in the Adirondacks, a job so hastily arranged that he had to hitchhike there with an equally penniless friend whose knowledge of Greek won the sympathy of Greek cooks at eateries en route. With similar color Crow recounts his "scuffling" from bar to union hall, from one apartment (and roommate) to the next in an attempt to make ends meet. As his career picked up, he played with everyone from Duke Ellington, Benny Goodman and Dinah Washington to Simon and Garfunkel. Crow's enthusiastic reminiscences, relayed with a musician's sure pacing, vivify an era.

-- Jonathan Yardley, book critic
If you like musician stories, you might want to check out  BANDROOM  in Allegro, the monthly publication of Local 802, American Federation of Musicians.  It's a column I've been writing since 1983, made up of stories sent to me by musicians in every field. 

Back issues of my column can be found by clicking here.

Click on "Publications and Press Releases" and scroll down to "Bill Crow's Bandroom."  

To return to the HOME page click here